ABS-CBN News,
[COSPLAY] With Angel Locsin Out, Who Will Be The Next Darna?
NOTE: Share count have been reset for this post due to an outage as advised by ShareThis (April 2017). Share Counts here reflect the shares after the week of the outage only, that is, after April 10, 2017.
One of the most coveted roles in the Philippines' Entertainment Industry is our local version of the super heroine widely known as
"Wonder Woman;"
and ours is more commonly known as
Darna
. While it is inevitably argued that the two characters are not comparable, their similarities are quite uncanny. After all, our local folklore, arts, and comics genre are inspired by Western creations. Darna's a fictional comics character too and to read more about her, check it out
here
.
Now going back to the topic ... so Darna has been portrayed by several local actresses in either a TV series or movies. One of the most popular ones is
Angel Locsin
, a well-renowned actress for her portrayal of Darna in a TV series. She's said to be reprising this role in a big, anticipated movie this year, currently dubbed as
"Darna 2017"
however, due to her health conditions; which has been ongoing since last year (i.e. it was initially broadcasted as "Darna 2016"), she has officially announced now that she's out of the project. There was also an official announcement from ABS-CBN Management about this, given her spinal problems. And with Angel out of the picture, who will play this role now?
---
The announcement has been the talk of the town now ...
And this has caused frenzy! We do wish Angel to be in the pink of health soon too. Of course, there are lots of other actresses out there who also would want to play this role in this highly-anticipated movie. There are also a lot of others being pegged for the role, waiting for this to just get offered to them. There's a survey out now at
Cosmo PH
as well:
"Who Will Be The Next Darna?"
Among the choices, here are my top picks:
Arci Munoz - Bet as Darna (PinoyExchange Photo)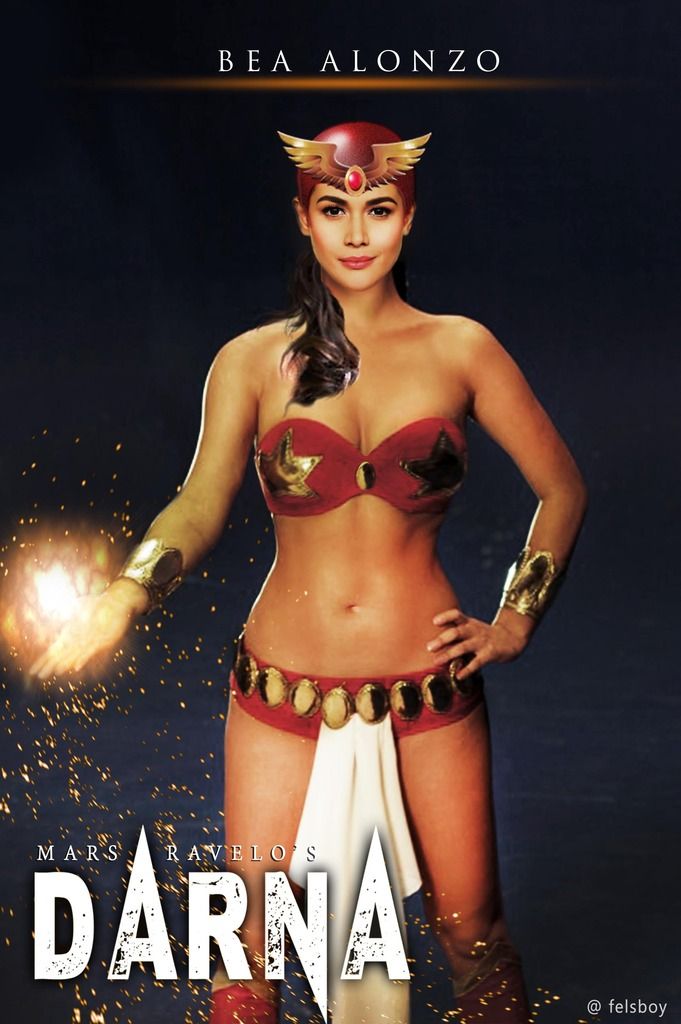 Bea Alonzo as Darna (PinoyExchange Topic)
Sarah Geronimo as Darna (Inquirer)

Well, these are just my choices though. There are lots of others in the list who are actually equally deserving, I guess. They already have names in the industry and can possibly give life to the character. Lots of fandom creations are available too. Just then, the patience to wait as to who really will portray it, is needed now ...

Angel has been a really great Darna too, not to mention that I cosplayed the character for the love of Filipino Komiks and tribute to a great artist ... Mars Ravelo ... but of course, my version is that costume worn by Marian Rivera instead. I guess I did it because in terms of body built and skin complexion, I kinda resemble her more.
Angel Locsin as Darna
I guess that then depends on the network's bigwigs as to who they will decide as the next Darna to star in the movie.
#Darna2016 #Darna2017
For now, let me share then a few of my photos as I cosplayed this character ...
Chai Chen (me) as Darna | Chops Bardos Photography
I can also fly as Darna!
Chai Chen (me) as Darna | Chops Bardos Photography
Darna is BadA$s!
Chai Chen (me) as Darna | Van Poquiz Photography
Darna Backshot
So who do you think will be the next Darna? Can that be me? Hehe!
Do
SUBSCRIBE to my Youtube Channel
too! It's
Youtube.com/User/chenmeicai
! For more videos where I also put my cosplay videos, and other stuff of interest, go check out my channel, guys! Thanks a lot for everyone's support!
Me on Instagram / Twitter / Youtube / Musical.ly =
@chenmeicai
Chai