I honestly don't know if I am addicted to Facebook or not so yeah, I tried to find out.
I just chanced upon this website as I graced at a funny comic act; and the site is non-other than
http://theoatmeal.com/
. I find the comic arts cool & cute!
So anyway, I took this quiz and here's my result: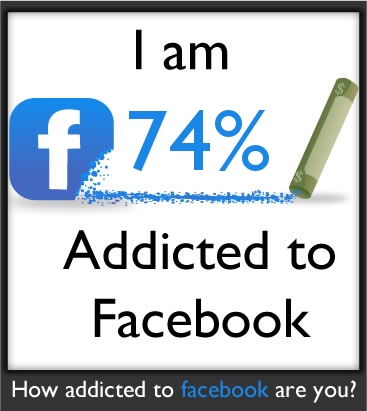 I thought I'd rank up higher! LOL.
Nevertheless, I kinda gave it a thought too just now; in terms of how I really work up my
Facebook Account
. I think I signed up there since
2006
but I rarely used it. That time, I was still sooo hooked up to
Friendster
. But things change and I used my
Facebook
as my main account.
Initially, I was using
Facebook a.k.a. "F.B."
as a mini-diary. I used to update a lot in terms of my everyday thoughts, events, happenings, etc. I only found more use to it late 2009 or early 2010 I guess. Mostly cosplay-related; although my gallery is fully seen at my
Deviantart
site.

Chai Chen: Jean Grey Cosplay (Marvel)
So how do I use up my FB Account now? Here's my top lists for FB usage ...
WHY I USE FACEBOOK
:
Rants, thoughts, shout-outs (daily; or sometimes, just twice a week?)
Upload my Cosplay Photos and Cosplay Convention out-takes
Upload miscellaneous photos taken via my ever-reliable Blackberry or my now-new-Android Galaxy SII phone; of things that interest me (i.e. food, cosplay, gadgets, cute stuff, girl stuff, self captures, etc.)
Play Sorority Life, among others ...
Check updates from selected friends; and events (i.e. cosplay events, birthdays).
With my busy schedule, I can rarely go online nowadays so the uploading and gaming becomes secondary. I also get a chance to check my
Facebook
via mobile only - most of the time. A number of friends have suggested that I should create a
Fan Page
for myself already. However, I don't think I'll have the time to update it hehe (what an excuse huh?) The suggestion came as well since I get a number of anonymous invites. Well, I ain't adding anyone new unless I'm really familiar with the person already. Lah~
My Top Reasons Why I Don't Have/Want A Facebook Fanpage
:
I don't have time to update it.
It's pathetic to create my own fanpage. LOL. I'm not a fan of myself.
I remember I kinda posted a status in this nature some time last year too hehe.
I don't recall my Top 5 reasons ... I guess I only remembered two (2) haha.
And there are also
Top 5 Reasons
how to keep it successful. I will fail it. LOL.
With these, I guess
I FAIL at being a real facebook-addict
. I'm just a trying-hard addict.
I'm only at 74%
. Not even a 75% Passing Mark! LOL.

Chai